ЮЛИЯ И КАРЕН ГРИГОРЯНЫ, МОСКВА
Уважаемая туркомпания PHOENIX TOUR!
Хочется выразить благодарность за организацию прекрасного и познавательного тура по Армении: все четко, интересно и душевно. Очень понравился гид, ему отдельное спасибо. В следующий раз обязательно обратимся к Вам за новыми впечатлениями и с удовольствуем порекомендуем другим.
СПАСИБО!
С уважением, Юлия и Карен Григоряны, МОСКВА
ШАРЛОТТА ОВАКИМЯН, МОСКВА
Уважаемые сотрудники туркомпании Феникс Тур!
Большое спасибо за абсолютно фееричный тур по Матенадарану. Без услуг профессионального экскурсовода, среди этих древних рукописей можно просто потеряться, так ничего и не поняв. Книги и рукописи потрясают яркостью красок и калиграфичностью. Куча впечатлений обеспечена! Рекомендую!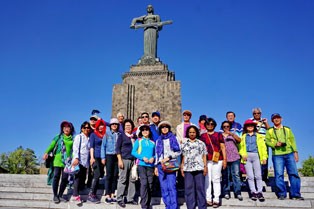 MALAYSIA GROUP
Hi Karine,
We arrived in Tehran for our final destination. The wonderful 4 countries trip will come to an end, when tomorrow we will fly back home with sweet memories of the hospitality and culture and cuisines.
Thank you for your itinerary and good services, including guides, buses and hotels, which were all good in quality. I'll certainly recommend your company to my director friend to bring in tourists to the 4 countries. All of us are very happy with the services and the arrangement you prepared, and the tour companies of the 4 countries provided.
Mr. Ong, Malaysia
SINGAPORE GROUP
One word to describe my feeling while in Armenia was POSITIVE, that one day Armenia will be great again.
A memorable trip, covering 7 churches/monasteries, traveling with views of scenic mountains, snow, lakes, good and bad roads, countryside homes, abandoned Soviet factories etc, and amazing Yerevan, the capital of Armenia.
We started with a simple HELLO with our guide Nara Sukiasyan — but ended with a heartwarming and moving GOODBYE.
Little did I know of this country. It was also a learning trip for me, about its history, politics and economy, Soviet rule etc., and something close to home, the Armenians' contribution to Singapore:
— Raffles Hotel was established by Armenian hoteliers, the Sarkies Brothers in 1887.
— The Straits Times was started by an Armenian, Catchick Moses in 1845
— The Armenian Church of Saint Gregory the Illuminator completed in 1835, is the oldest church in Singapore. In 1909 the church became the first building in Singapore with electricity.
— Singapore national flower, the Vanda Miss Joaquim was created from cross-breeding two species in the 1880s by Singapore-based Armenian horticulturist.
Unofficial figure suggest that there are about 80 Singaporean with Armenian decent/Armenians living in Singapore.
Yum Chew Lee, Singapore
WATANABE FAMILY, MALAYSIA
Dear Phoenix Tour,
We have safely arrived back in Malaysia this afternoon. We all really enjoyed this trip — the scenery, the architecture, the UNESCO World Heritage Sites, the cuisine, etc. Thank you so much again for all the good arrangements for us.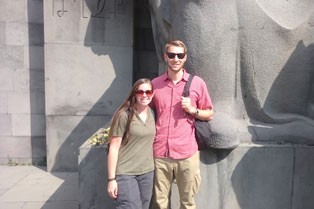 TAYLOR & BRITTNEY LABRUM, USA
Dear Phoenix Tour,
We enjoyed our time in Armenia. We loved to see the sites and learn about the history. Nick is very knowledgeable guide and provided us interesting historic info. Also, Gurgen is an excellent driver too.
Thank you!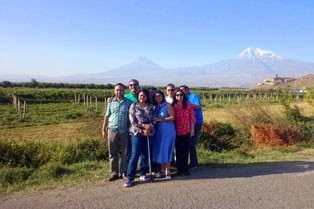 SANJEEV MALHOTRA GROUP, INDIA
I recommend Phoenix Tour Armenia as one of the best tour operators, as they go into very minute details of everything. Thank you for making our trip to Armenia the most memorable one! Hats off to our great guide Nick, whose knowledge, empathy and caring went beyond expectations!
Cheers,
Sanjeev, Rakesh, Arun, Prakash, Deepa, Anupama, Seema & Sangeeta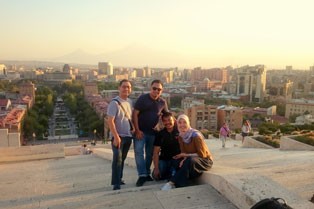 TELKOM DELEGATES, INDONESIA
Nick was very nice, humble big man! Thanks for guiding us for 4 days. We will visit this lovely country someday again!
TERIMA KASIH!!!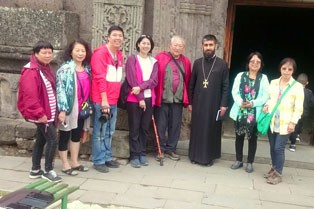 PASTOR HUNG & HONG KONG TEAM
負責任及友善
一團七人,有五位長者團隊。
導遊無微不至的照顧及體諒是對這團隊最大的禮物了。亞美尼亞是一個好地方,人與人之間也讓人感受到他們美好關係,這個導遊公司安排也佳,美食,景色及交通等也非常好。十五日的團隊過得美好。
Responsible and friendly!
We were a group of seven people, with five elderly in a team. The meticulous care and the knowledge of the tour guide was the biggest gift for this team. Armenia is a good place where people feel their unity and form a good relationship. This travel company also has good arrangements, delicious food, the scenery was great and transportation had also been very good. Our team had a good time!
Tony Leong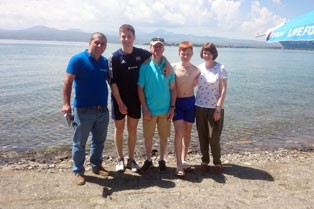 BLACK FAMILY, SCOTLAND
Great Holiday!
The pace of the tour was just right with good opportunities for sightseeing & leisure. Very friendly and helpful guide and driver. Armenia is well worth seeing!
Neil, Fionna, Ewan and Stewart