Dadivank
DADIVANK
The Monastery of St. Dadi, otherwise called Dadivank ("The Monastery of Dadi" in Armenian), is the largest monastic complex in Nagorno-Karabakh, and one of the true masterpieces of Armenian medieval architecture. It is located in the northwestern part of the Martakert Province of the Nagorno-Karabakh Republic, on the territory of Artsakh's historical province of Upper Khachen.
According to the legend, the monastery was founded at the end of the 1st century and named after one of apostle Jude's disciples, St. Dadi, who martyred preaching Christianity in the Eastern Territory of Armenia. The monastery was first mentioned in medieval chronicles in the 9th century. After recent archaeological excavations the remains of the St. Dadi were found and blessed by His Grace Archbishop Barkev Martirossian, the primate of the diocese of Artsakh.
Dadivank Monastery was re-consecrated in 1994 and nowadays is on the list of acting monasteries of the Artsakh Diocese of the Armenian Apostolic Church. Beginning in August 2004, the Memorial Complex of Dadivank Monastery undergoes fundamental architectural restoration. The works of restoration were sponsored by Armenian-American businesswoman Edele Hovnanian. The restoration of the Katoghike (the main domed church of the complex) has been completed. The chapel (built in the 13th century) of Dadivank Complex was restored by Edik Abrahamian (Tehran, Iran).
Visiting DADIVANK is on the itinerary of the following tours: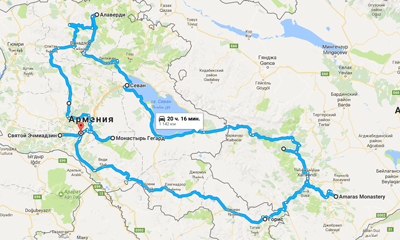 Close Map View