Gandzasar
GANDZASAR
Gandzasar (The "Treasure Mountain" in Armenian) is a 10th-13th century monastery situated in the Martakert Province of Nagorno-Karabakh Republic, in the very heart of Artsakh's historical province of Khachen. The Gandzasar is the seat of the Archbishop of Artsakh appointed by the Mother See of Holy Echmiadzin of the Armenian Apostolic Church.
Karabakhi locals believe that the monastery was founded on the place of a shrine holding the skull of St. John the Baptist, which was brought to the land of Artsakh directly from Palestine during the Crusades. At that time, the Armenian nobility of Artsakh maintained strong contacts with the royal families of the maritime Armenian Kingdom of Cilicia (sometimes called "Lesser Armenia"), which aided the Crusaders.
The Cathedral was built between 1216 and 1238, and has been hailed as a "crown jewel" and the "encyclopedia" of Armenian architecture by the famous Russian scholar Anatoly L. Yakobson of St. Petersburg's Hermitage. Professor Charles Diehl (1859-1944) of the Sorbonne University, the renowned French art historian and specialist on Byzantium, placed Gandzasar in a group of five most important examples of Armenian monumental art which belong to the world's architectural masterpieces.
The foundations of the Cathedral were laid in 1216 by Prince Hasan Jalal Vahtangian the Magnificent, who called himself the "Supreme Potentate" of Artsakh's largest and strongest Principality of Khachen. The design of Gandzasar's Cathedral of St. John the Baptist is based on an architectural composition developed in the 10th century and well represented in other ecclesiastical ensembles located throughout the present-day Republic of Armenia, such as the Haghpat (967-991), Sanahin (967-1084) and Kecharis (1033-1214).
The exclusively rich decorative pattern of the interior and exterior renders a particular uniqueness to Gandzasar's Cathedral. After the Akhtamar Cathedral of the St. Cross on the Lake Van (now in Turkey), Gandzasar contains the largest amount of sculpted decor compared to other architectural ensembles of Armenia.
Visiting GANDZASAR is on the itinerary of the following tours: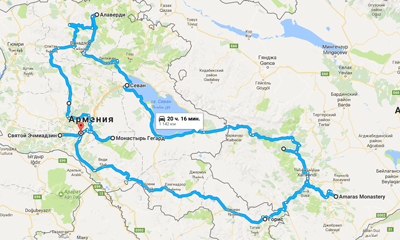 Close Map View
Close Map View