Shushi
SHUSHI

Shushi is a town in the Shushi Province of the Nagorno-Karabakh Republic, situated at an altitude of 1,400-1,800 meters above sea level in the picturesque Karabakh mountains.
Shushi as a settlement is first mentioned in the Middle Ages, with the 15th century illuminated Armenian Gospel kept on display in the Yerevan's Matenadaran, being the earliest known artifact from the town. In the 19th century, Shushi was one of the great cities of the Caucasus, larger and more prosperous than either Baku or Yerevan. It was well known for its silk trade, its paved roads, brightly colored carpets, big stone houses, and fine-bred horses.
The St. Ghazanchetsots Cathedral, is the main cathedral in the center of Shushi. It was built between 1868 and 1887 and is supposed to be one of the architectural-ecclesiastical masterpieces ever built in the Nagorno-Karabakh. Be ready for the most spectacular acoustic experience after you enter one of the mystical basement rooms of the church. When in the room, stand in the center of this hemispherical area, under the hole made in the ceiling and speak to hear your voice.
Called Jdrduz by the locals, the Hunot Canyon is located on the southwest edge of Shushi, and it is one of the most beautiful sites in Karabakh. The canyon represents a unique ecosystem with plenty of caves, forests, a river, several springs, waterfalls and rocky mountains. You can view in awe the sheer 250 meters deep (820 ft) canyon walls soaring above the Karkar River. This beauty is one of the most photographed sites by visitors to Artsakh.
Visiting SHUSHI is on the itinerary of the following tours: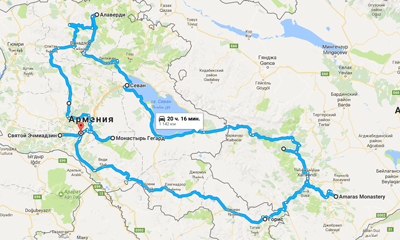 Close Map View