Noratus
NORATUS
One of Armenia's most amazing sights is the medieval cemetery with a multitude of early khachkars located in the village of Noratus, in the Gegharkunik Province, near Gavar and Lake Sevan, 90 km north of Yerevan. Noratus Cemetery is on the western shore of Lake Sevan, south of the Sevanavank Monastery and an easy drive from there, passing the small monastery of Hayrivank.
The cemetery contains the greatest cluster of khachkars in the Republic of Armenia. It is presently the largest surviving cemetery with khachkars in the world, following the devastation of the khachkars in Old Julfa by the government of Azerbaijan.
The oldest khachkars in the cemetery date back to the late 10th century. During the revival of the khachkar tradition in the 16th-17th century, many khachkars were built under the yoke of the Safavid Empire, when oriental influences seeped into Armenian art. The cemetery is spread over a seven hectare field, containing almost a thousand khachkars, each of them depicting unique ornamentation. Stones with single crosses, stones with multiple crosses, geometric patterns, naturalistic ones: it is quite impossible to take in the riot of carved detail. The majority of the khachkars is covered with moss and lichen. One of the khachkars from the Noratus Cemetery was donated to the British Museum in 1978 by the Catholicos of All Armenians Vazgen I.
Visiting NORATUS is on the itinerary of the following tours:
Close Map View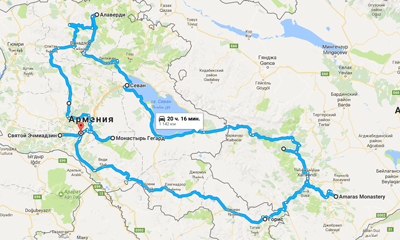 Close Map View