Amberd
AMBERD
Amberd is a 7th century fortress located at 2,300m (7,500 ft) above sea level, on the slopes of Mount Aragats at the confluence of the Arkashen and Amberd rivers in the Aragatsotn province of Armenia. The name translates from Armenian as the "Fortress in the Clouds". There is only one serpentine road leading to Amberd that passes through mountains. That is why it is impossible to get there in winter when everything is covered in snow.
The history of Amberd goes back to the 7th century when Armenian princes Kamsarakan started there construction of the fortress. With the time, a small outpost turned into a well-protected fortress. However, the Kamsarakans had to pass this strategic point to another Armenian noble family Pahlavuni, who made it their residence. The great commander Vahram Pahlavuni, who lived in the 11th century, ordered to fortify the complex of Amberd and build there a church later named in his honor - Vahramashen.
Despite excellent protection of Amberd, it was invaded by Seljuks coming from Central Asia in the end of the 11th century. Later, in the 13th century, Mongols captured and destroyed this beautiful fortress.
The site of the fortress remained abandoned and untouched until the 20th century, when reconstruction and archaeological excavations began. Its walls are constructed of roughly hewn basalt blocks set in place with mortar. In some places, thickness of walls reaches 4 meters. Tower walls are inclined to make it easier to fire on invaders below. The palace had three levels, each floor separated from one another by wood planks clinched on logs.
Excavations have shown that the interior of the castle and the rooms were quite lavish with elegantly carved decorations in the rooms, oil lamps, incense holders, and walls decorated with silks and brocades, and with bronze, gold and silver ornamentation.
The nearby church of Surb Astvatsatsin (The Holy Virgin), also known as Vahramashen Church, was built for Prince Vahram Pahlavuni and completed in 1026. It seats between the fort and near a wall on the promontory with the Arkashen River in the canyon below.
Visiting AMBERD is on the itinerary of the following tours: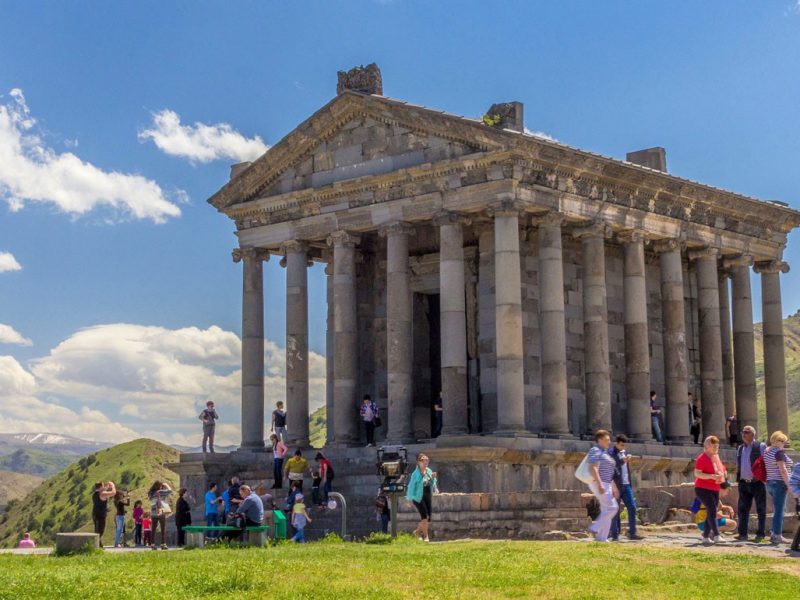 Close Map View