Saghmosavank
SAGHMOSAVANK
Saghmosavank ("The Monastery of Psalms" in Armenian) located in the Aragatsotn Province of Armenia. The monastery complex is perched on the edge of the precipitous gorge of the Kasakh River, and its silhouette dominates the adjacent villages and rise sharply against the background of the mountains crowned by Mt. Aragats.
The architectural ensemble of Saghmosavank is distinguished by the clever use of the terrain (the eastern walls of the monastery verge on the edge of the precipice, and seem to be an extension of it). The picturesqueness of the monastery is especially expressive, when viewed from the opposite side of the Kasakh River Canyon.
The interior of the Saghmosavank is unusually beautiful. The red and black colors of some separate parts are due to the red and black stones. Red, white and yellow paint adds to the whole beauty of the walls as well as the entire interior. The eastern and western facades are distinguished by modest decoration and khachkars are inserted into masonry in various parts of the facade, some into the arched niches. Numerous memorial crosses are cut on it.
The book repository of Saghmosavank, built in 1255 under Prince Kurd Vachutyan, is among Armenia's finest buildings and original in its composition. As a renowned academic center, the Saghmosavank Monastery was famous for its manuscripts and illuminated miniatures.
 Visiting SAGHMOSAVANK is on the itinerary of the following tours: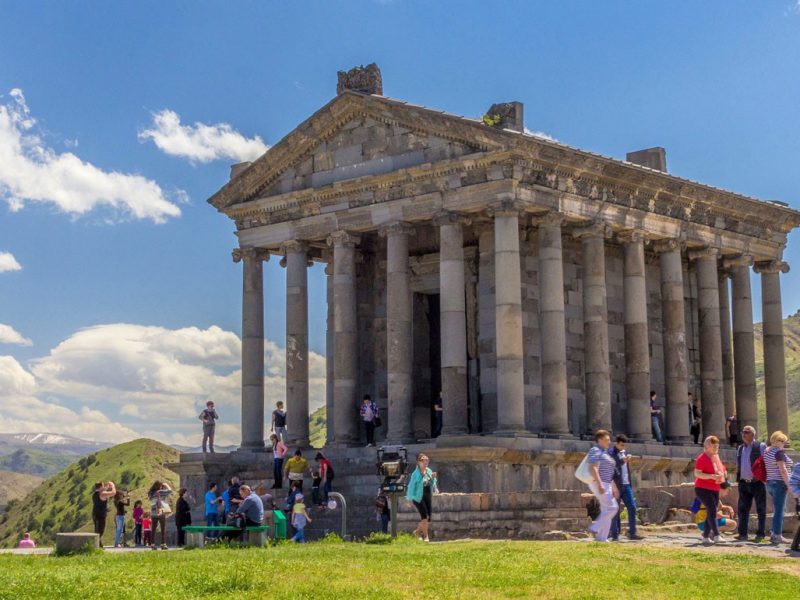 Close Map View