Haghartsin
HAGHARTSIN
Hidden in the forest of hornbeams, this beautiful 12th century monastery is located in the Tavush Province of Armenia, 13 km from Dilijan town in the picturesque gorge of the upper reaches of Haghartsin River. It was built between the 10th and 14th centuries, much of it under the patronage of the Bagratuni Dynasty.
Traditionally, an eagle was soaring over the dome of the main building, and thus it became commonly known as the monastery of the playing (or soaring) eagle ("Hagh" means a game while "Artsin", a form of "Artsiv", means eagle in Armenian).
The local terrain and scenery, determined the compositional peculiarities of this monastery. Haghartsin has no walls, and its structures are surrounded by verdure and peasants' homes, some being a rather long distance away from the monastery.
The interesting sculptural group of the church's eastern facade shows two men in monks' attires who point out with their hands on a model of a church and a picture of a dove, with half-spread wings placed between them. The remains of burial vault of two kings Smbat and Gagik Kyurikians preserved near the south wall of the St. Grigor Church.
The monastery is also famed for housing an image of the Virgin and Child, which has distinct Mongolian features – added to convince the next wave of Mongol invaders not to destroy the church. The monastery was ravaged during the Seljuk Turks campaign, but the complex was reconstructed in the 12th century by order of the Georgian King George III and the Armenian princes. Currently Haghartsin Monastery is undergoing major renovation by Armenia Fund with the donation from HH Dr. Sheikh Sultan bin Mohamed Al-Qasimi, Ruler of Sharjah.
Visiting HAGHARTSIN is on the itinerary of the following tours: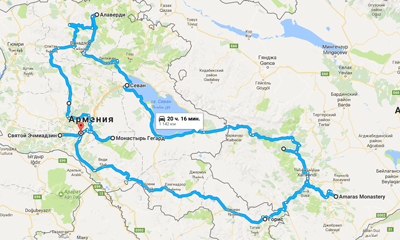 Close Map View