Haghartsin
HAGHARTSIN
Haghartsin is a 13th century monastery located near the town of Dilijan in the Tavush Province of Armenia. It was built between the 10th and 13th centuries, much of it under the patronage of the Bagratuni Dynasty. Traditionally, an eagle was soaring over the dome of the main building, and thus it became commonly known as the monastery of the playing (or soaring) eagle ("Hagh" means a game while "Artsin", a form of "Artsiv", means eagle in Armenian).
The local terrain and scenery, determined the compositional peculiarities of this monastery. Haghartsin has no walls, and its structures are surrounded by verdure and peasants' homes, some being a rather long distance away from the monastery.
Haghartsin has three churches: Gregory the Illuminator, the Virgin Mary (Surb Astvatsatsin), and St. Stephen (Stepanos). There are some fine khachkars to see around (don't miss the one on the southern wall of Surb Astvatsatsin), a sundial on the wall of St Gregory, a ruined gavit and a refectory with the stunning arched ceiling.
The monastery was severely damaged and burned when Timur invaded Armenia around 1400. During the following centuries, the buildings underwent numerous restorations, which partially changed their original appearance. The most important restorations were conducted in 1671 and in 1681 by Armenians from Tbilisi. At the end of the 18th century, the complex was seriously damaged once again during the campaign of Agha Mohammad Khan.
In the 1970s, some restoration works were carried out, and the last large-scale restoration occurred in 2012 by Armenia Fund with the generous donation from Sultan bin Muhammad Al-Qasimi, Ruler of Sharjah, U.A.E.
Visiting HAGHARTSIN is on the itinerary of the following tours: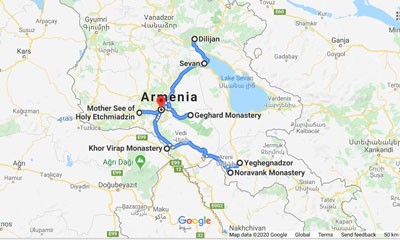 Close Map View