Dilijan
DILIJAN
Dilijan is a spa town in the Tavush Province of Armenia, and it is one of the most important resorts of the country, situated within the Dilijan National Park. The town has a number of high class hotels and sanatoriums, allowing the visitors the chance to enjoy the beauty of the National Park, as well as the historical sites. The town is also famous for its mineral curing water fountains. Hiking, mountain biking, bird watching and picnicking are popular recreational activities around Dilijan.
The forested and reclusive Dilijan is home to numerous Armenian artists, composers and filmmakers, and features some traditional Armenian architecture. The Sharambeyan Street has been preserved and maintained as an "Old Town," with its collection of stone and wooden traditional buildings, restaurants, souvenir stalls and workshops.
Dilijan has traditionally been considered a summer and winter resort for local and foreign vacationers. However, over the past decade the town has become a significant financial and educational hub, attracting students not only from across Armenia but abroad. It's home to the Central Bank of Armenia's Training and Research Center, as well as UWC Dilijan College and TUMO Center for Creative Technologies.
Lake Parz, or Parz Lich ("Clear Lake" in Armenian) is one of Dilijan's most attractive natural sites. It is situated in the northern part of the town at a height of 1,400 meters (4,593 ft) above sea level. It has an area of 2 hectares (5 acres) and an average depth of 8 meters (26 ft). This small lake is considered as one of the most beautiful fall foliage spots in the Armenia.
Visiting DILIJAN is on the itinerary of the following tours: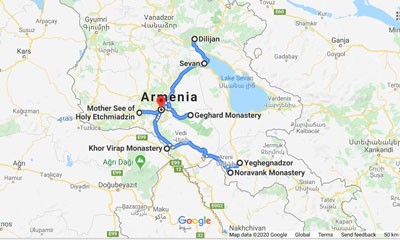 Close Map View