Echmiadzin
ECHMIADZIN
Vagharshapat, commonly known as Echmiadzin, is the fourth largest city in Armenia and the most populous town in Armavir Province, located about 18 km (11 mi) west of the capital Yerevan, and 10 km (6 mi) north of the Armenian-Turkish border. Echmiadzin is one of the historic capitals of Armenia and the spiritual center of the Armenians, as it is the seat of the Catholicos of All Armenians, the head of the Armenian Apostolic Church.
Mother Cathedral of Holy Echmiadzin was built by St. Gregory the Illuminator in 301–303, and it is considered to be the oldest church built by a state in the world. According to the 5th century Armenian annals, Saint Gregory had a vision of Christ descending from heaven and striking the earth with a golden hammer to show where the cathedral should be built. Hence, the patriarch gave the church and the city the new name of Echmiadzin, which may be translated as "The Place Where the Only Begotten Descended".
According to a text "Holy Relics of Our Lord Jesus Christ", a 13th century Armenian manuscript, the spear which pierced Jesus on the cross has been brought to Armenia by the Apostle Thaddeus. Currently, the Holy Spear is on display in the Echmiadzin's Cathedral Museum, enshrined in a 17th century reliquary. Amongst other relics of the Museum, you can see the fragment of Noah's Ark, the kneecap of John the Baptist, a particle of the Cross on which Jesus was crucified, and the fragment of the Savior's crown of thorns.
The 7th century St. Hripsime Church is one of the famous ecclesiastical buildings in the city of Echmiadzin. The tomb of the Christian martyr Virgin Hripsime is located in the sacristy of the church. According to the legend, the 7th century church of St. Gayane was constructed over the tomb of Virgin Gayane, who was martyred for preaching Christianity in Armenia.
The Cathedral of Echmiadzin, the churches of Saint Hripsime, Saint Gayane and Saint Shoghakat are listed among the UNESCO World Heritage Sites.
Visiting ECHMIADZIN is on the itinerary of the following tours: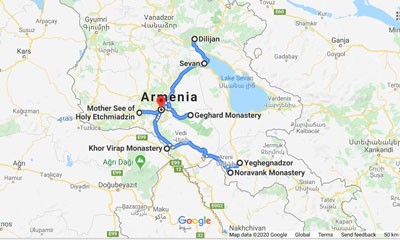 Close Map View