Garni
GARNI
The Temple of Garni is a reconstructed classical Hellenistic temple near Garni, in the Kotayk Province of Armenia. It is the only Greco-Roman colonnaded building in Armenia and the former Soviet Union.
The site is located near the village of Garni, and is officially known as the Garni Historical and Cultural Museum Reserve, which includes the temple, a bath complex, a royal summer palace, the 7th century church of St. Sion and several other minor structures, including medieval khachkars (cross-stones).
Garni is the best known structure and symbol of pre-Christian Armenia. It was probably built by King Tiridates I in the 1st century AD as a temple to the Sun God Mithra (known as Mihr in Armenian). The deity is believed to have originated in India, evolving in Persia and Armenia into its Zoroastrian form during the Bronze and Iron Ages, from where it was carried to Greece by remnants of Alexander the Great's armies, where its Manichean form was incorporated into the Greek concept of the Helios God.
After Armenia's conversion to Christianity in the early 4th century, it was converted into a royal summer house of Khosrovidukht, the sister of Tiridates III. According to some scholars it was not a temple, but a tomb and thus survived the universal destruction of pagan structures. It collapsed in a 1679 earthquake. Renewed interest in the 19th century led to its eventual reconstruction between 1969 and 1975. It is one of the main tourist attractions in Armenia and the central shrine of the Armenian Neopagan Movement.
The temple overlooks the wonderful canyon shaped by the ever-flowing Goght River. The Goght River carves through this beautiful, eye-catching gorge, referred to as Garni Gorge, and admired for its well preserved vertical basalt columns. The breathtaking orderly octagonal columns look almost like an organ, that is why they are called "Symphony of the Stones".
Visiting GARNI is on the itinerary of the following tours: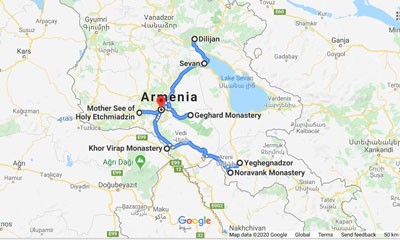 Close Map View