Goshavank
GOSHAVANK
Goshavank ("The Monastery of Gosh" in Armenian) is a 12th century monastery located in the village of Gosh in the Tavush Province of Armenia. Today the monastery is not a functioning religious complex, although it remains a popular tourist destination.
Goshavank was erected in the place of an older monastery, once known as Nor Getik, which had been destroyed by an earthquake in 12th century. The monastery was founded in 1188 by the saintly Armenian cleric Mkhitar Gosh, a statesman, scientist, the author of numerous fables and parables, as well as of the first criminal code. Mkhitar Gosh was buried in a little chapel overlooking the main complex, which was later renamed Goshavank and the village named Gosh in his honor.
Goshavank features a main church of Virgin Mary (Surb Astvatsatsin) and smaller churches of St. Grigor, St. Gregory the Illuminator, and the St. Hripsime Chapel, which is located on the opposite hillside and within view. With a school attached, the library is said to have held 15,000 books before it was burned by Timur's army in the 13th century.
The impressive monastery, which has remained in relatively good condition also houses one of the world's finest examples of the khachkars (cross-stones). Near the entrance to the chapel, you will find one of the most beautiful khachkars in Armenia - the "Aseghnagorts" (The Needlecarved) khachkar, made in 1291 by the master carver Poghos.
Visiting GOSHAVANK is on the itinerary of the following tours: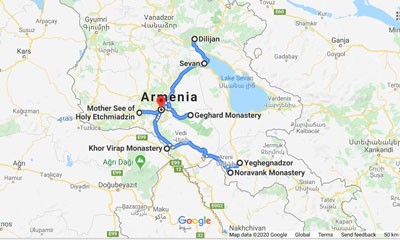 Close Map View