Zvartnots
ZVARTNOTS

Zvartnots, which in translation from ancient Armenian means "Temple of Celestial Angels", is a temple of Armenian architecture of the 7th century, located near Yerevan and Vagharshapat (Echmiadzin). In 2000, the ruins of the temple and the archaeological area around it were included in the UNESCO World Heritage List.
At the beginning of the 20th century, near Yerevan, a group of researchers discovered the ruins of an ancient temple, buried up to the roof under a layer of earth and sand. After excavating the structure and reconstructing its original appearance, the researchers came to the conclusion that earlier on the site of the hill there was one of the most beautiful and large-scale religious buildings of medieval Armenia - the Zvartnots temple.
Zvartnots was built on the site of the meeting between Armenian King Trdat and the preacher of Christianity in Armenia, Gregory the Illuminator, freed from 13-year captivity.
The building, erected at the suggestion of Catholicos Nerses III, laid the foundation for a new architectural direction. The opening of the temple was honored with their presence by many influential persons, including the Byzantine Emperor Constantine II, who wished to erect a similar structure in the capital of the empire - Constantinople.
The temple was see-through, as if woven from light and air. Openwork weaving of windows, delicate geometric ornament, grape bunches carved on the walls, pomegranate fruits, palm leaves and human figures created a special atmosphere of lightness, naturalness and ease.
Zvartnots was the tallest church in the world at that time, and was supposed to stand for 1,000 years (the estimated date of the second coming of Christ). Unfortunately, the temple only stood for 300 years: the pillars of the building cracked during an earthquake in the 9th century, and the multi-ton structure collapsed like a house of cards. The disaster did not spare the cathedral palace located nearby with outbuildings.
You can admire the graceful bas-reliefs and amazing sculptural compositions that used to decorate Zvartnots in the archaeological museum located on the territory of the temple.
Did you know that the Armenian temple of Zvartnots is depicted on the wall of one of the most visited churches in the world? In the 13th century Parisian chapel of Sainte-Chapelle, there is a bas-relief on which you can see Noah's Ark against the backdrop of the Zvartnots temple.
Visiting ZVARTNOTS is on the itinerary of the following tours: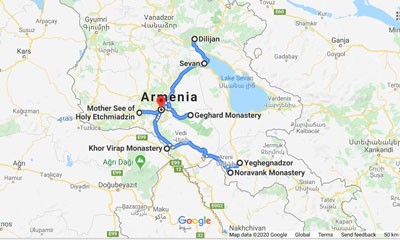 Close Map View