Zvartnots
ZVARTNOTS

Zvartnots Temple ("The Celestial Angels" in Armenian) is a 7th century, centrally planned aisled tetraconch type Armenian cathedral built by the order of Catholicos Nerses the Builder in 643-652. Now in ruins, it is situated at the boundary of the city of Echmiadzin, in the Armavir Province of Armenia (UNESCO World Heritage Site).
Zvartnots remained standing until the end of the 10th century, but was destroyed by an earthquake in 930 AD, and was lost to history until its discovery in the early 20th century. Zvartnots was built at a time when much of Armenia was under Byzantine control or influence and during the early invasions of Armenia by the Muslim Arabs.
Construction of the cathedral began in 643 under the guidance of Catholicos Nerses III. Dedicated to St. Gregory, it was located on the place, where a meeting between King Tiridates III and Gregory the Illuminator was supposed to have taken place. Reputedly one of the most beautiful churches in the world, it housed relics of St. Gregory, the first Catholicos (Patriarch of all Armenians) of the Armenian Church.
The Armenian and Arab historians alike marveled at the beauty of Zvartnots, calling it one of the most beautiful buildings ever built. Originally built to be the tallest church of the world at the time, and to last for 1,000 years (a projected date for the second coming of Christ), the Zvartnots Temple has been only partially reconstructed. The image of Zvartnots Temple appears on one of the bas-reliefs of the St. Chapelle Church in Paris, France.
Visiting ZVARTNOTS is on the itinerary of the following tours: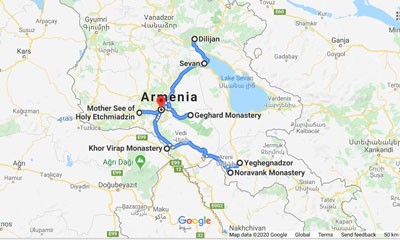 Close Map View