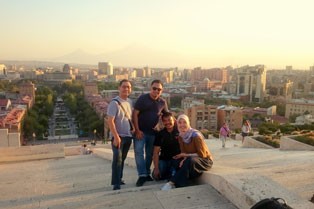 TELKOM DELEGATES, INDONESIA
Nick was very nice, humble big man! Thanks for guiding us for 4 days. We will visit this lovely country someday again!
TERIMA KASIH!!!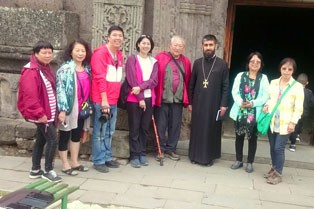 PASTOR HUNG & HONG KONG TEAM
負責任及友善
一團七人,有五位長者團隊。
導遊無微不至的照顧及體諒是對這團隊最大的禮物了。亞美尼亞是一個好地方,人與人之間也讓人感受到他們美好關係,這個導遊公司安排也佳,美食,景色及交通等也非常好。十五日的團隊過得美好。
Responsible and friendly!
We were a group of seven people, with five elderly in a team. The meticulous care and the knowledge of the tour guide was the biggest gift for this team. Armenia is a good place where people feel their unity and form a good relationship. This travel company also has good arrangements, delicious food, the scenery was great and transportation had also been very good. Our team had a good time!
Tony Leong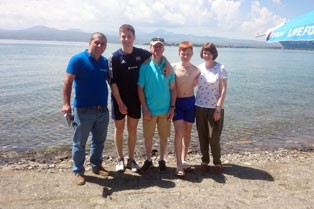 BLACK FAMILY, SCOTLAND
Great Holiday!
The pace of the tour was just right with good opportunities for sightseeing & leisure. Very friendly and helpful guide and driver. Armenia is well worth seeing!
Neil, Fionna, Ewan and Stewart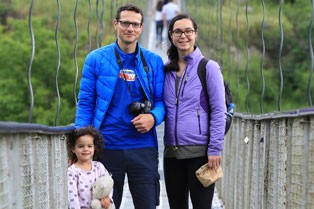 STANGO FAMILY, SWITZERLAND
Dear Karine,
We have been back in Switzerland a few days now and I just wanted to write a quick thank you to you and everyone at Phoenix for our amazing trip to Armenia.
You have been extremely professional and organized throughout. This makes a big difference and gives lots of confidence in your company.
The hotels were all very good and beyond our expectations. We always got a very large and clean room and the staff were always friendly and helpful.
Finally, Vahagn was fantastic. We liked him very much as a driver and guide but also a person. He was amazing with our three year old daughter and really looked after her everywhere we went. His knowledge of photography is great and he always knew the best spots to get some wonderful photos.
He is not so confident with his English but he was still able to tell us lots about the sights we visited and he knows a lot about Armenian history and culture.
Overall, it was a fantastic trip and we would definitely use you again should we return and we will recommend you to anyone else interested in visiting Armenia.
Many thanks once again,
Best wishes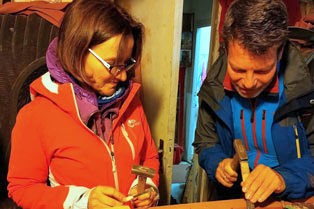 DAGMAR & PETER RUPP, GERMANY
Dear Phoenix Tour,
We had a wonderful time in Armenia, especially thanks to our fantastic tour guide. She was incredibly knowledgeable and had answers to all our questions. Beyond that she was just lovely and made our trip to be unforgettable. In addition, we would like to thank you for your great organization work; everything was just perfect.
If we ever come back to the region we will definitely do the bookings with the help of your agency. And we have already recommended you to friends that think of traveling to Armenia next year;))
Take care and greetings from Germany,
Dagmar and Peter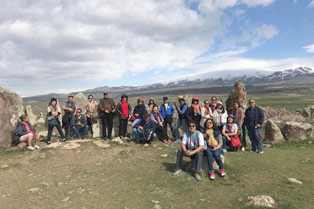 MARIA TJANDRA, INDONESIA GROUP
Dear Karine,
Greetings from Jakarta again, we all landed safely last night and I'm back in the office. Indeed we have great times. Good local guide like Sona makes our trip so enjoyable. She is so knowledgeable with the history and we all learn more about Orthodox religions ha..ha.ha..
EDOARDO MARAZZI & ZUBEIDA, BERGAMO, ITALY
Gentile Phoenix Tour Armenia
La miglior guida che si possa trovare. Gentile, preparato, sempre disponibile; è stato un viaggio indimenticabile e un piacere scoprire l'Armenia!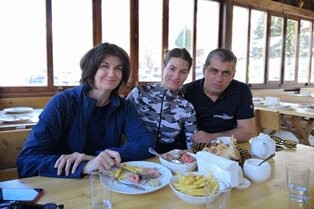 MAUREEN HICKEY, USA
Dear Phoenix Tour,
I had a wonderful trip and Ara was absolutely fantastic and so accommodating. I can honestly say that I enjoyed every place that we went. I really learned so much about both countries. What is so nice about having a private tour is that you can see so much in a short time. I hope to go back soon in the near future with my children. Please free to use me as a reference anytime. I don't mind if someone wants to email me to ask me some questions.
Thanks again,
Maureen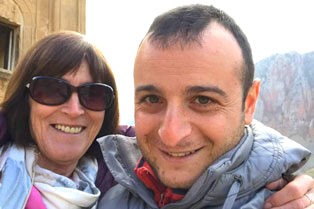 JAN JENNINGS, AUSTRALIA
Dear Vahagn from Phoenix Tour Armenia,
Thank you so much for the past few days in Armenia. It has been wonderful for me!
Jan
ESTONIA GROUP
The trip organized by Phoenix Tour Armenia was carried out at a high level. We have received a comprehensive overview of Armenian history from the ancient Urartu state to this day. Beside that we could travel with Air Tram in Tatev, taste wine in Areni village and brandy in Ararat factory. The great experience was a three-day bus ride in the mountainous regions of Armenia.
Our trip was held on the week when the Great Son of Armenia Charles Aznavour died. This gave a special emotional staining to our visit - the colorful fountains on the Republic square played his songs throughout the whole week. The Armenian people's attitude to the singer's decease was very touching.
Both, the guide Shushanik Kostandjan and the bus driver Armen, were highly appreciated by all 12 members of our tourist group. It was exceptionally sympathetic when Shushanik always turned to the travel community, using the word "druzja". Her explanations on Armenian history and various sights were well thought out and thorough. She always left us enough time for independent sightseeing.
The bus driver, however, made a miracle when he was able to drive us through the traffic jam along the paths to the Saghmosavank monastery. Also, on narrow and occasionally very holey mountain roads, he showed a firm hand and a cold nerve - we all could feel ourselves very safe in the bus he was driving.
Accommodation in Jerevan Hotel Silachi was on the very high level, the hotel staff friendly and professional, breakfast varied and tasty. The hotel "Mina" in Gori also had a good level. On the other hand, in the hotel Blue Sevan we could felt the spirit of the Soviet era. Although the fresh fish caught from Sevan for dinner was delicious, then the breakfast offered at this hotel was very poor. It may not be coincidental that, after visiting this hotel, several tourists suffered from indigestion.
So, I arrived at the critical side of the feedback, which will surely be of more interest to you than the praises. If the preceding very likely represents the common position of our group, then following remarks belong personally to me.
The travel program was very tight, at times even tiring. Perhaps this was the fault of the order provided by the Phoenix Tour's Estonian partner. Of course, monasteries and churches have an important place in Armenian history, and each one is special. However, for the average tourist, seven different churches / monasteries are not much different from each other. Rather, into the program could be included something related to contemporary Armenian culture and society. Surely there would have been people in our group who would have been interested in visiting a concert, theater or museum / gallery.
A bit more would have liked to hear and see what is related to the recent history of Armenia - how Armenia has been developing since 1991, when the state, like Estonia, regained its independence. In Estonia, tourism groups are usually able to visit either a parliament or a government building, where they are introduced with political developments. Of course, for all people of Estonia, the fate of Nikol Pashinyan's government is now at the center of attention and they look at this with great sympathy.
These are just a few thoughts and suggestions that could be considered in the future, but they did not have to be part of our program of course. In fact, according to the program prepared for us, our travel arrangements were carried out at a very high level. I and my companions were very pleased with the trip.
Շնորհակալություն !