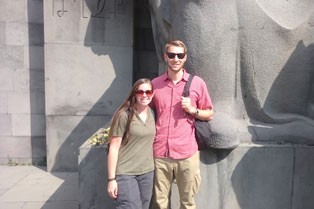 TAYLOR & BRITTNEY LABRUM, USA
Dear Phoenix Tour,
We enjoyed our time in Armenia. We loved to see the sites and learn about the history. Nick is very knowledgeable guide and provided us interesting historic info. Also, Gurgen is an excellent driver too.
Thank you!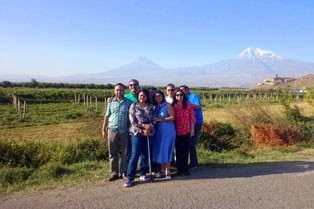 SANJEEV MALHOTRA GROUP, INDIA
I recommend Phoenix Tour Armenia as one of the best tour operators, as they go into very minute details of everything. Thank you for making our trip to Armenia the most memorable one! Hats off to our great guide Nick, whose knowledge, empathy and caring went beyond expectations!
Cheers,
Sanjeev, Rakesh, Arun, Prakash, Deepa, Anupama, Seema & Sangeeta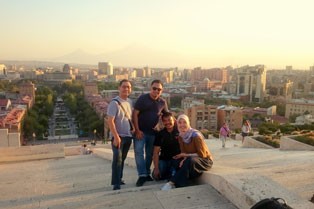 TELKOM DELEGATES, INDONESIA
Nick was very nice, humble big man! Thanks for guiding us for 4 days. We will visit this lovely country someday again!
TERIMA KASIH!!!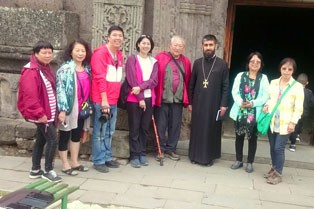 PASTOR HUNG & HONG KONG TEAM
負責任及友善
一團七人,有五位長者團隊。
導遊無微不至的照顧及體諒是對這團隊最大的禮物了。亞美尼亞是一個好地方,人與人之間也讓人感受到他們美好關係,這個導遊公司安排也佳,美食,景色及交通等也非常好。十五日的團隊過得美好。
Responsible and friendly!
We were a group of seven people, with five elderly in a team. The meticulous care and the knowledge of the tour guide was the biggest gift for this team. Armenia is a good place where people feel their unity and form a good relationship. This travel company also has good arrangements, delicious food, the scenery was great and transportation had also been very good. Our team had a good time!
Tony Leong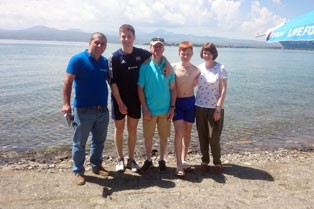 BLACK FAMILY, SCOTLAND
Great Holiday!
The pace of the tour was just right with good opportunities for sightseeing & leisure. Very friendly and helpful guide and driver. Armenia is well worth seeing!
Neil, Fionna, Ewan and Stewart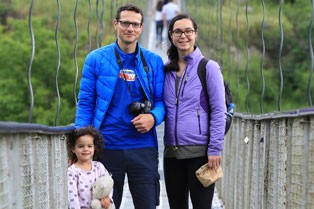 STANGO FAMILY, SWITZERLAND
Dear Karine,
We have been back in Switzerland a few days now and I just wanted to write a quick thank you to you and everyone at Phoenix for our amazing trip to Armenia.
You have been extremely professional and organized throughout. This makes a big difference and gives lots of confidence in your company.
The hotels were all very good and beyond our expectations. We always got a very large and clean room and the staff were always friendly and helpful.
Finally, Vahagn was fantastic. We liked him very much as a driver and guide but also a person. He was amazing with our three year old daughter and really looked after her everywhere we went. His knowledge of photography is great and he always knew the best spots to get some wonderful photos.
He is not so confident with his English but he was still able to tell us lots about the sights we visited and he knows a lot about Armenian history and culture.
Overall, it was a fantastic trip and we would definitely use you again should we return and we will recommend you to anyone else interested in visiting Armenia.
Many thanks once again,
Best wishes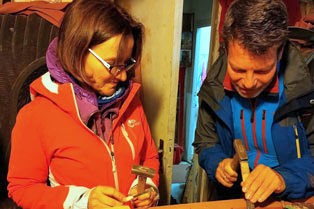 DAGMAR & PETER RUPP, GERMANY
Dear Phoenix Tour,
We had a wonderful time in Armenia, especially thanks to our fantastic tour guide. She was incredibly knowledgeable and had answers to all our questions. Beyond that she was just lovely and made our trip to be unforgettable. In addition, we would like to thank you for your great organization work; everything was just perfect.
If we ever come back to the region we will definitely do the bookings with the help of your agency. And we have already recommended you to friends that think of traveling to Armenia next year;))
Take care and greetings from Germany,
Dagmar and Peter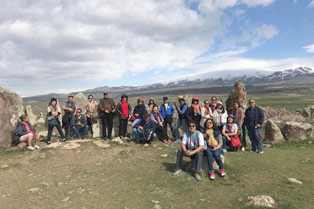 MARIA TJANDRA, INDONESIA GROUP
Dear Karine,
Greetings from Jakarta again, we all landed safely last night and I'm back in the office. Indeed we have great times. Good local guide like Sona makes our trip so enjoyable. She is so knowledgeable with the history and we all learn more about Orthodox religions ha..ha.ha..
EDOARDO MARAZZI & ZUBEIDA, BERGAMO, ITALY
Gentile Phoenix Tour Armenia
La miglior guida che si possa trovare. Gentile, preparato, sempre disponibile; è stato un viaggio indimenticabile e un piacere scoprire l'Armenia!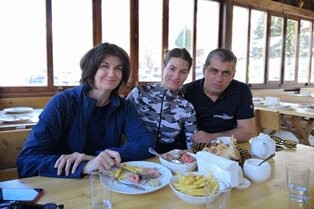 MAUREEN HICKEY, USA
Dear Phoenix Tour,
I had a wonderful trip and Ara was absolutely fantastic and so accommodating. I can honestly say that I enjoyed every place that we went. I really learned so much about both countries. What is so nice about having a private tour is that you can see so much in a short time. I hope to go back soon in the near future with my children. Please free to use me as a reference anytime. I don't mind if someone wants to email me to ask me some questions.
Thanks again,
Maureen