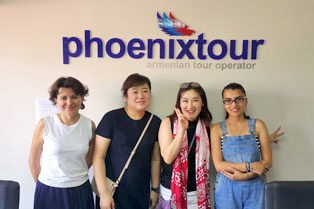 YEJIN LEE, SOUTH KOREA
Dear Karine,
Hello-greetings from Korea.
I came back to Korea and am writing this email to give you the proper thanks. It has been a amazing, perfect trip. Ara-the driver was a wonderful guy who not only gave us a transportation and explanations, but also tried to help us no matter what happened. Thanks to you, Ara, and other staff in your agency, we now feel like Armenia is a very close country. I definitely recommend a trip to Armenia to many people I know.
The only things I feel less amazing were as below, but once again the trip was great and things I am about to mention was tiny. So no offense!
1. The winery in Areni was quite disappointing. It was barely a winery but a tiny store. If you recommended a bigger one where we can look around cellars and listen about how their wine is made, it would have been much greater.
2. The local guy who took us to the "Symphony of Stones" in Garni was quite rude. At the "Symphony of Stones", we asked him if we could get off the car and take some pictures and he said, "If you do, you walk 600 m and come back." We got off and took some pictures at the end, but what he said sounded like a threat since he was a stranger to us. Mom and Dad said, "only if Ara was here!" And I felt the same.
Other than these, we were happiest people in Armenia all the time. Thanks again. And I hope to see you again someday!
Best,
Yejin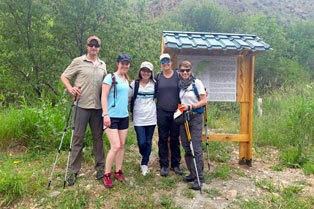 JOHN, LIZ, JEN & JORJANN, USA
We just had the most amazing and memorable trip with Sahakanush and Gagik all around Armenia. Every place we went was beautiful and we learned so much about the country, people and history. We could not have asked for a better guide - Sahakanush was a phenomenal guide and answered all our questions. She taught us so much about Armenia and showed us amazing hospitality.
It is difficult to say our favorite part because we enjoyed everything. However, our favorite experience was our day at the Gnishik National Park. The jeep drive through the park was AMAZING and unforgetable. We 100% recommend this trip to everyone who is adventurous and active.
The hike was gorgeous and we had a wonderful local guide here as well. It was fascinating to see the Bezoar goats and understand the conservation effects involved to protect these endangered species.
Our favorite hotel was the Silachi Hotel in Yerevan. Our least favorite was Noy Resort, because there was a baptism party at the hotel so service was not as good as we have come to expect in Armenia.
We have truly had the most incredible experience in Armenia. Thank you for organizing everything and providing us such fantastic guide, driver and local guides. Our trip was a once in a lifetime, beautiful, journey and we will never forget it!
ROBYN SUMMERHAYES, AUSTRALIA
Just a quick note to say I really enjoyed my recent tour of Georgia & Armenia. Really loved the countries and wish I had had more time. Vahagn was very good and looked out for me.
Regards
Robyn Summerhayes
АНТОН ГРИШИН, МОСКВА, РОССИЯ
Карина, добрый день. Вообщем все хорошо. Группа в восторге. Хорошие отзывы о поездке. Водитель отличный. Гид еще лучше. Авиабилеты бы подешевле! Вообщем спасибо. Будем еще агитировать в Армению туристов!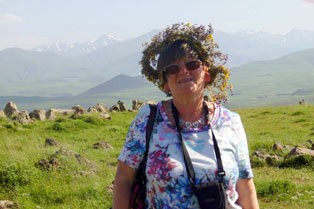 ZSUZSA KUCSKA, HUNGARY
Great organization, excellent bus driver, prepared, nice tour guide, delicious dinners, good hotels. The country is magical! Thank you.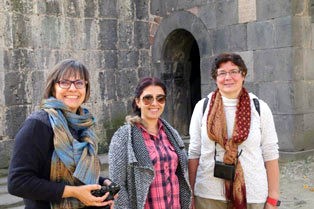 GERALD, ESTHER AND WENDY, CANADA
It truly was a wonderful time to visit and explore your part of the world. You provided knowledgeable guides and drivers, which really helped out with our big adventure. From Mestia in the Svaneti, to Stepenakert in Artsakh, it was always an eye opener.
To you and your wonderful crew, a very Merry Christmas and a fantastic New Year!
Gerald, Esther and Wendy
DANIEL & RALITSA TSVETANOV, BULGARIA
Dear Phoenix Tour,
Thank you for an amazing trip. Our driver Ara was such a kind and patient person and made our tour unforgettable. Thanks a lot!
BUDAPEST ARMENIAN COMMUNITY, HUNGARY
Dear Phoenix Team,
On behalf of the Budapest XI District Armenian Minority Community we thank you for the organization of our pilgrimage tour in Armenia!
Hegedüs Annamária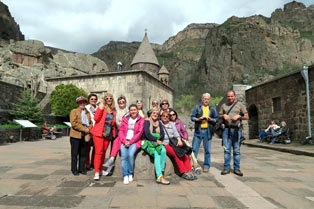 BULGARIA GROUP
Дамы и господа,
Все члены болгарской группы, посетившие Армению очень  опытные путешественники, люди, побывавшие во многих странах мира.
Это дает нам повод еще больше и по достоинству оценить качества дамы, которая была нашим гидом во время короткого пребывания в вашей прекрасной Армении - Лилит Микаелян. Мы очарованы ее высоким профессионализмом, преданности делу, высокой культурой и воспитанием, тактичностью и почтенностью.
Всего за три дня Лили (как ласково звучит ее имя на болгарском языке), удалось заставить нас полюбить, даже влюбиться в историю, культуру и в людей Армении. Преданность, любовь и достоинство, с которым сопровождался нелегкий труд Лили, сделал всех нас, навсегда, послами Армении и утвердил наше благоговение и восхищение к страданиям и героизму братского армянского народа.
Мы видим трудности которые сопутствуют вас сегодня, но остаемся глубоко убеждены в том, что Армения будет и возродится. Народ с такой историей, культурой и вкладом в мировое наследии человечества имеет свое место в сердцах людей по всему миру.
Лилит, примите нашу благодарность, мы полюбили ваш народ и родину, часть наших сердец остались в Армении, навсегда!
С уважением,
А. Драганова, Б.Захариева, М. Мирчева, Т. Цекова, Д. Игнатова, М. Терзиева, С. Стоилова, Е. Янева, Ф. Босилкова, Б. Поборников, С. Поборникова, Б. Калчев, В. Стамболски
BELGIUM GROUP
It was a wonderful trip through a wonderful country.
Everything was fine, the bus, the driver (what a nice guy), the hotels, the food and of course our guide. Shushan was a perfect guide, a nice and friendly woman. She knew everything about the history of your country, the people and their habits. In one word, it was PERFECT! We will certainly recommend your agency to our friends.
Kind regards,
Clarita, Paul, Marek, Purita, Johan and Marieanne