MARJORIE ROBERTS & DARYL DODSON, USA
We had a wonderful time and really don't have any complaints of significance. I did think that given the drive to Nagorno-Karabakh, it would have been nice to have a four-wheel drive car – and on the day that we went from Vank (which we loved) to Stepanakert and to Amaras it would have been interesting – and we had the time –  to go to Agdam and Tigranakert.
We'll definitely recommend Phoenix Tour and Armenia to all our friends (and already have).
TOOMAS JÜRIADO, ESTONIA
I visited Armenia as a member of the tourist group of the Estonian Travel Agency Sandberg Reisid. Being very inspired and impressed, I'm very happy to say best thanks to everybody in Armenia who made our stay nice and pleasant.
For me it was a very special trip because the unusually small group, eight persons only – which made a close, nearly family relation with everybody. The program was interesting and optimal: not too long traveling and not too long days, but lots of impressions and knowledge. So we got lots of impressions but also enough time to relax.
Both lodgings, in Yerevan and at the Apaga mountain resort, were good. I value especially high the position on hotel Cascade in the center of Yerevan, which made very easy to have individual walks in town. Both hotels had good service and nice choice on breakfast buffet; the lunches and dinners at various restaurants gave good overview of Armenian cuisine.
Bus driver Mesrop was very professional, kind, helpful and friendly. Everybody said after the trips that it was a very safe drive with him even in the most difficult parts of the tour.
Also, our guide Lilit was very professional. As we had pretty long time to wait in Kiev on our way back home, I also asked the impressions of my travel-mates about Lilit's work. Everybody pointed out accuracy and keeping on the agenda, being well organized but flexible and keeping in mind the wishes of participants. Very impressive is her brilliant knowledge on Armenian history, culture and everyday life and everything was presented in fluent perfect Russian with very good enunciation.
Not surprisingly maybe all of us said that they would like to have another trip to Armenia, may be mostly in the south regions of the country – and, of course, to have Lilit as the guide and Mesrop as the driver on this trip.
So, I say many thanks for this wonderful trip with the best guide I ever met during my pretty many travels. The company has to be proud having so outstanding co-workers.
Best regards,
Toomas Jüriado
KARMA INDIAN RESTAURANT, YEREVAN
We have been working with Phoenix Tour Armenia as a partner for almost a 3 years now. I did not want to miss the opportunity to give well-deserved thanks to Mrs. Karine Hovsepyan and Phoenix Tour Armenia Team. A word of advice for the Indian would-be travelers to Armenia – I would heartily recommend Phoenix Tour Armenia to any and everyone who is considering a trip to Armenia. The Team goes above and beyond to make your vacation a memorable one!
Mr. Shajith Apa
СЕМЬЯ СУЛТАНЯНЦ, ЭСТОНИЯ
Всей семей хотим передать вам слова благодарности за прекрасное время, которое мы провели в Армении. Все было организованно очень профессионально, мы увидели и узнали намного больше чем ожидали. Маленькая страна с древней историей, много достопримечательностей, многообразная природа и рельеф, теплый ласкающий климат. Очень доброжелательные люди, всегда с улыбкой и открытым сердцем. Мы все оставили в Армении кусочек своего сердца, мы обязательно приедем еще раз, некоторые из нас хотят даже переехать жить в Армению!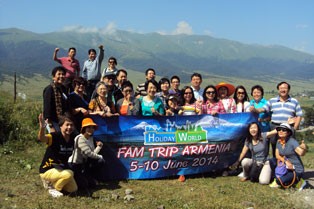 FAM TRIP GROUP, THAILAND
Dear Phoenix Tour Team,
Thank you very much for the well organized Fam Trip to Armenia. Now we are safely back to Bangkok with a good memory of beautiful Armenia. We were impressed with the destination and have more confidence to promote it to the market. Once again, thank you for the wonderful trip you arranged for us!
СЕМЬЯ ШАДРИНЫХ, РОССИЯ
Уважаемая Карина и сотрудники "ФениксТура",
Xотим Вам выразить огромную признательность за прекрасную организацию нашего отдыха в Армении! 10 дней пролетели как одно мгновение! Каждый день нас ждали новые интересные места. От нашего гида мы узнали много фактов из истории страны. Благодаря Вашей фирме мы увидели все прекрасные уголки Армении. Это прекрасная страна которой хочется восхищаться!
С удовольствием вернемся, еще не раз! Всем рекомендуем!
С уважением,                                                                                                                               Cемья Шадриных. Санкт-Петербург, Россия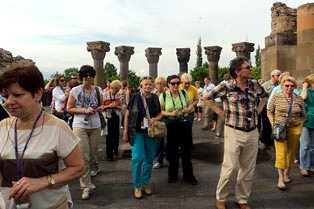 SAWICKA KAMILA, POLAND
Armenia swoim pięknem bardzo nas zachwyciło. Kraj ten to malownicze okolice zielonych dolin, szum jakich potoków i wysokich gor. Niesamowite wrazenie sprawiaja przepiękne jeziora Sevan:pewne czystej wody położone w dol śnieżnych gór. Na turystów czeka ciekawe zabytki cerkwi, polozone na częstej wysoko w górach.
Mieszkancy Armenii są bardzo gościnny. Turyści mają możliwość poznania oryginalnej wspaniałej kuchni ormiańskiej, muzyki i tańca. Podczas pobytu byliśmy pod fachową opieką biura turystycznego "FENIX", polecam każdemu odwiedzenie tego pięknego kraju przez biuro turystyczne "FENIX" .
POLAND GROUP (ARMENIA & KARABAKH TOUR)
Ech Armenia, już zaczynamy tęsknić…
Trochę wycieczek już za nami, jednak na tak kameralnej i wspaniale zorganizowanej wycieczce jeszcze nie byliśmy.
Wszystko, począwszy od bardzo dobrego kontaktu z biurem poprzez organizację wyjazdu, bardzo dobrą bazę hotelową, kuchnię, że tylko palce lizać, było super.
Krzysztof niezwykle fachowo acz bezboleśnie wtłoczył nam do głów niemało wiedzy o Armenii.
Karina, nasza śliczna ormiańska opiekunka i pilot czuwała nad nami jak dobry duch, a kierowca woził bezpiecznie i punktualnie. Zobaczyliśmy naprawdę dużo pięknych i historycznie ciekawych miejsc.
Szczerze polecamy ten przepiękny kraj – górzysty, pełen wspaniałych, nigdzie indziej nie spotykanych zabytków oraz przyjaznych i gościnnych ludzi.
Pakujcie walizki!
HUNGARY GROUP
"Örményország csodálatos, az ember minden lépésnél érzi, hogy egy élő történelemkönyvbe látogatott el. A gyönyörűszép, nehezen elérhető helyekre épített templomok egyszerűen lenyűgözőek."
"Nagyon jól éreztem magam Örményországban, az emberek rendkívül kedvesek, vendégszeretőek, a tájak gyönyörűek, az örmény konyha ízgazdag és egészséges."
"Nagyon érdekes volt számomra látni, hogy habár nehéz körülmények között élnek, az emberek mégis vidámak, örvendenek az életnek és nagyon szeretik meg büszkék hazájukra, népükre."
"Örményország gyönyörűszép ország, hányatott történelme és jelene ellenére is érződik az élni akarás, a nehéz gazdasági helyzet ellenére is szemmel látható a fejlődés. Az egyetlen dolog, ami zavart, az a mindenfelé elszórt nejlon zacskók, de biztos vagyok benne, hogy hamarosan ez is megoldódik."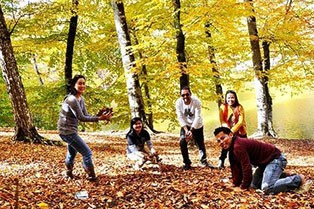 ALFIE PATA, UAE
I want to take this opportunity to thank Phoenix Tour for your dedication in providing excellent travel experience in Armenia. Thank you so much for all of your work to make it such a great experience for all of us. We had an absolutely fantastic travel! We could not have been treated better! The adventures will be remembered, meals were awesome, the people were nice to interact with, and what a great pleasure for wine lovers! The autumn foliage in Dilijan was ethereal!
It was such a delight to have Kara to take care of all our travel arrangements, Stefan as our driver and guide, and Nick who welcomed us warmly in your amazing country. Your team is an epitome of customer service; with Kara being efficient and professional and Stefan being patient and caring for our group.
My compliments to Phoenix Tour for having such great employees who are willing to go the extra mile! Your team is one of the best travel agents I've ever been acquainted with!