Currency
ARMENIAN CURRENCY
In Armenia officially all payments have to be made in the country's national currency, so knowing Armenian money is an indispensable skill if you are planning a visit any time soon.
The Armenian national currency is the Dram (AMD). The word "dram" translates into English as "money" and is cognate with the Greek drachma and the Arabic dirham. One dram is equal to 100 lumas.
The paper bills are issued in denominations of 500, 1,000, 2,000, 5,000, 10,000, 20,000, 50,000 and 100,000 drams. Coins replace all banknotes less than 1,000 drams (10, 20, 50, 100, 200 and 500 drams (the only exception 500 drams comes as. The Armenian dram is also a currency of the Nagorno-Karabakh Republic.
The front of the old issue 1,000 drams note, featuring a poet Yeghishe Charents
The back of the old issue 1,000 drams note, featuring the old Yerevan
The front of the new issue 1,000 drams note, featuring a poet Paruyr Sevak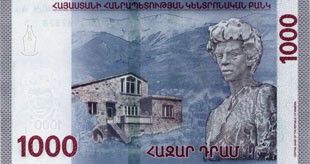 The back of the new issue 1,000 drams note, featuring the house-museum of Paruyr Sevak in Zangakatun
The front of the new issue 2,000 drams note, featuring the chess player Tigran Petrosian
The back of the new issue 2,000 drams note, featuring the Tigran Petrosian's "Chess House" in Yerevan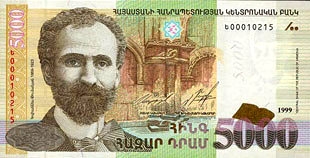 The front of the old issue 5,000 drams note, featuring a poet Hovhannes Tumanyan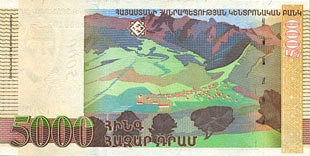 The back of the old issue 5,000 drams note, featuring a detail of Lori nature from Martiros Saryan's painting
The front of the new issue 5,000 drams note, featuring a writer William Saroyan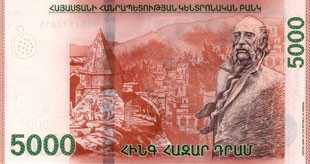 The back of the new issue 5,000 drams note, featuring the statue of William Saroyan in Yerevan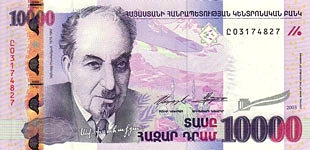 The front of the old issue 10,000 drams note, featuring a poet Avetik Isahakyan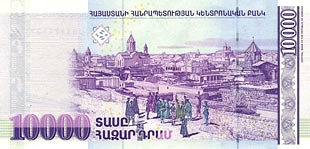 The back of the old issue 10,000 drams note, featuring the old Gyumri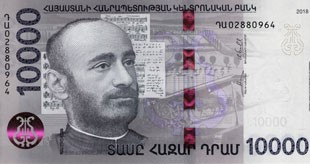 The front of the new issue 10,000 drams note, featuring a composer Komitas
The back of the new issue 10,000 drams note, featuring the Gevorkian Seminary and the statue of Komitas in Echmiadzin
The front of the old issue 20,000 drams note, featuring a painter Martiros Saryan
The back of the old issue 20,000 drams note, featuring a detail of Armenia's landscape from Martiros Saryan's painting
The front of the new issue 20,000 drams note, featuring a painter Ivan Aivazovsky
The back of the new issue 20,000 drams note, featuring the Art Museum and the statue of Aivazovskiy in Feodosia, Crimea
The front of the old issue 50,000 drams note, featuring the Echmiadzin Cathedral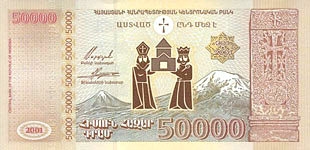 The back of the old issue 50,000 drams note, featuring St. Gregory the Illuminator and King Tiridates the Great lifting up the Armenian Church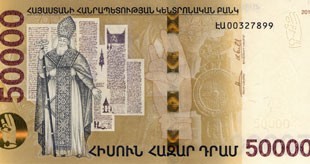 The front of the new issue 50,000 drams note, featuring St. Gregory the Illuminator
The back of the new issue 50,000 drams note, featuring the Khor Virap Monastery and the statue of St. Gregory the Illuminator
The front of the old issue 100,000 drams note, featuring the King Abgar V of Edessa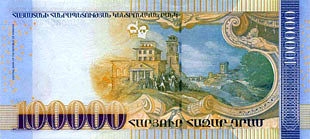 The back of the old issue 100,000 drams note, featuring St. Thaddeus, transferring the Jesus shroud to King Abgar V of Edessa